If you want to take your rock skills beyond the basics of sport climbing, this course is the perfect way to become a safe & efficient climber on all types of routes! Very small group sizes (max 4) allows us to provide personalized instruction that matches your skill and ambition level and provides a highly enjoyable week for all. During the course everyone will have lots of opportunities to lead sport, trad, and multipitch climbs!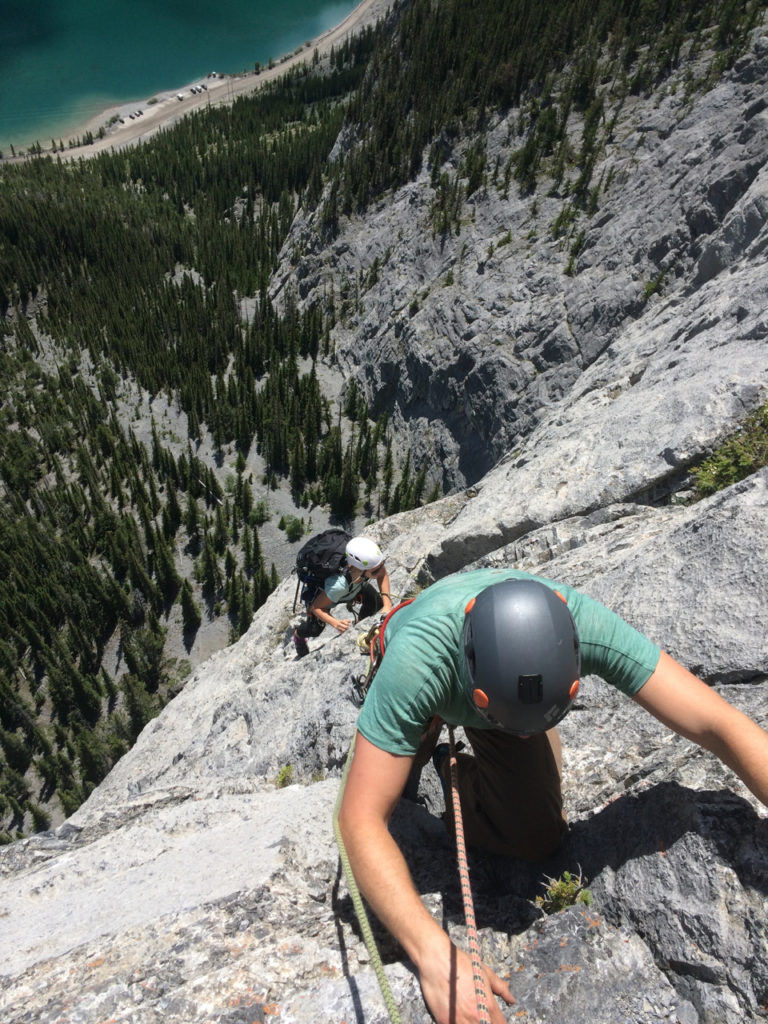 May 29-Jun 2nd (FULL)
Aug 21-25th (3 spots left)
COST: $1195 + GST per person
Prerequisites: Must have the ability to lead single-pitch sport climbs, build & clean bolted anchors and climb at least 5.8 on top-rope. If you have done a bit of previous climbing or are a strong gym climber but are not comfortable leading sport climbs & cleaning anchors, our two day Sport Climbing Courses or a custom day of training would be a great way to get up to speed!

Meeting Place & Time: Canmore at 7:30am

Book your spot: Please contact us at info@cdnalpine.com to get signed up!  You can join as an individual or as a group of up to four people.  A non-refundable deposit of $350 + GST is required to book your spot, with the remainder due 4 weeks before the course.  Invoices will be provided with options for etransfer, credit card and PayPal.  Reading and completing a Waiver form is required to participate in all courses or trips.  A copy of the Waiver will be provided to you before booking and can also be downloaded here: CRAG Waiver Form.  Before booking you must acknowledge that you have read & agree to the Waiver form.  

Agenda
Taking into account the groups skill levels & daily weather, the guide will strive to make the course as useful and enjoyable as possible for all participants. The small group size allows for great flexibility and the exact agenda will vary. However, the following sample outline will give you a reasonable idea of what to expect throughout the week.
Day 1 – We will jump right into the climbing while reviewing the basics of sport climbing and anchor building to make sure everyone is safe and up to speed! We will progress into more advanced anchor building & ropework skills as the day goes on.
Day 2 – On the second day we will move onto climbing & building anchors with traditional gear such as nuts & cams. For those who feel ready, there will be opportunities to do some leading on gear. We will also practice other important safety skills like how to retreat off a climb that you can't complete, a variety of rappelling scenarios and some basic self rescue.
Day 3 – We will continue to work on the skills from the first two days, and introduce some new ones for multipitch climbing & buddy rescue. As with all the other days we will of course do tons of climbing!
Day 4 – Multipitching! We will spend the day climbing a multipitch route with chances for everyone to do some leading. If possible we will also descend the route with multiple rappels. This day will really put all the new skills to use and will be a memorable experience!
Day 5 – Group choice day. Instead of sticking to a predetermined plan, we will work together to decide what will be the most useful and enjoyable way to spend the day. This could include more multipitch climbing, more trad climbing, trying harder routes on top-rope or a combination of many of these things!
Optional Day 6 – Multipitch Ascent: Course participants can add on a day of guided multipitch climbing in groups of 1 or 2 people for the chance to climb a longer & more challenging route. On the day after the course, this is offered at the discounted rate of $500 for 1 person, or $275 each for 2 people. Please request this option in advance. See the rock page for more information on guided ascents.
Gear List
Use of all climbing gear is provided free of charge. However, if you have any of your own gear feel free to use it!  If you have any questions about purchasing your own gear please email us at info@cdnalpine.com anytime for suggestions.
Small Pack – available for loan
Harness – provided
Helmet – provided
Rock shoes – provided on request

Belay device – provided
Warm sweater or jacket
Wind/rain Jacket
Water Bottle
Lunch