You can't miss the towering rock walls of Castle Mountain as you drive between Banff and Lake Louise!  For climbers this peak has long offered up some of the best alpine rock climbing routes in Canada.  All of the routes are big and there are a wide range of difficulties to suit any climber!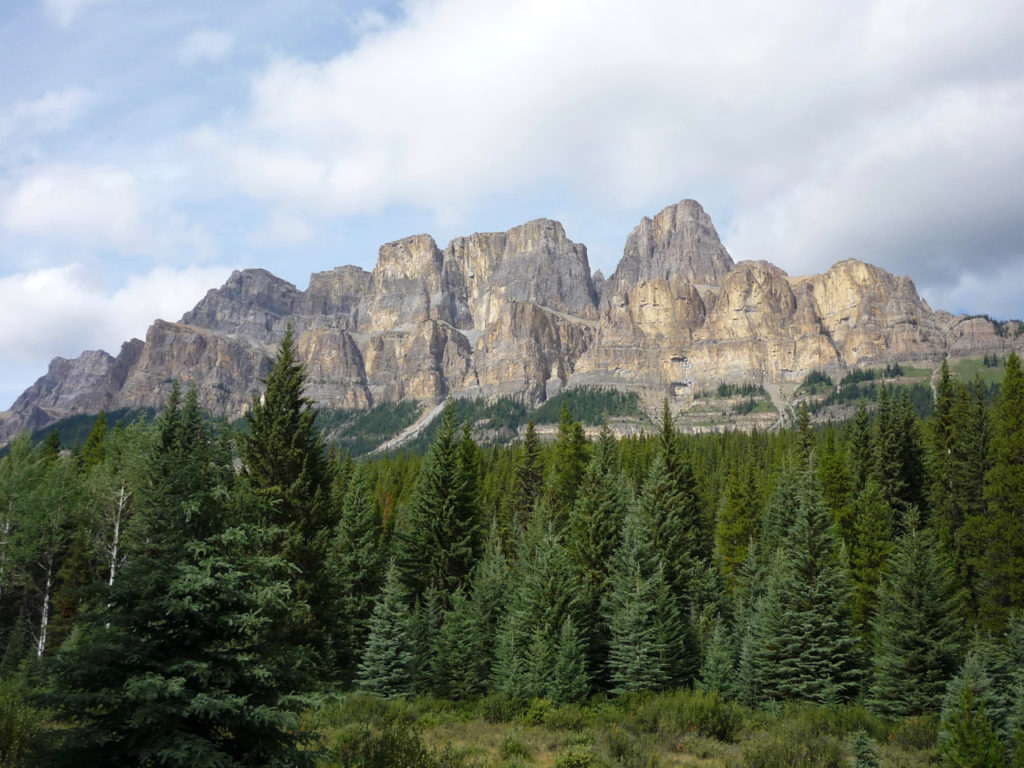 Elevation: 2766m / 9075ft

Location: Banff, Alberta

Difficulty: Long days on routes ranging from 5.5 to 5.10.

Logistics: Castle Mountain is climbed as a long day trip from Canmore/Banff or Lake Louise.  Up to two guests can join the guide for most routes on Castle Mountain.

Prerequisites: Previous multipitch rock climbing and rappelling experience.  Good endurance.

Routes
Eisenhower Tower (II 5.5): The classic route on the mountain. This climb makes an excellent first alpine rock climbing experience. It involves a bit of scrambling, some exciting ridge climbing, a 250m headwall of rock climbing and a number of rappels on the descent. Although the climbing is never very difficult you will be challenged by the length of the day and the magnificent exposure.  9-14 hours round trip.  Group size up to 2.
Brewer's Buttress (II 5.6): A  longer and more difficult climb than Eisenhower Tower, this route also offers excellent rock climbing throughout.  A steep hike and scramble bring us to Goat Plateau and the base of the route.  From here there are 13 pitches of rock climbing to the top!  The climbing can feel quite difficult for the grade due to the "old school grading", the size, and the pack on your back!  This climb is also available as a 2 day ascent as there is a hut on the giant plateau half way up the mountain. 10-14 hours round trip.  Group size of 1 is recommended, although 2 guests may join if experienced at alpine rock climbing.

Super Brewers (III 5.9): This massive and excellent rock climb is the link-up of Ultra Brewers (5.9, 7 pitches) on the lower cliffs and Brewers Buttress above. It makes for 20 pitches of rock climbing and a very long rewarding day!  10-16 hours round trip.  Group size of 1 only.
Lots more including Bass Buttress (II 5.6) and Ultra Brewers (II 5.9).
Gear List
All technical equipment is provided free of charge except for boots. However, if you have any of your own climbing gear feel free to use it! Rental and purchase information for boots, clothing and camping gear can be found here. If you are unable to locate any of these items or have any questions feel free to contact us at any time for assistance.
Small Pack (about 30 litres) – available for loan
Hiking boots or approach shoes
Harness – available for loan
Helmet – available for loan
Rock shoes
Sweater/Fleece
Rain Jacket
Rain/Wind Pants
Light Gloves
Toque
Sunglasses
Headlamp
Sunscreen
Water Bottles (2 litres)
Lunch