The Canadian Rockies has the best ice climbing on the planet…
Make the most of your trip to this ice mecca by enlisting the services of a professional ice climbing guide.  Try it out for the first time, get expert training or tackle one of our famous multipitch routes!  All guides are highly skilled and are certified through the Association of Canadian Mountain Guides (ACMG).
ICE CLIMBING COURSES
Introductory Ice Climbing Weekends – Never swung an ice axe? This is the place to start! No experience is necessary, just enthusiasm and a sense of adventure. Ice climbing is a sport that you may just fall in love with and the Canadian Rockies has the best ice in the world! 2 days. $365. Maximum 6 participants
Intermediate Ice Climbing Weekends – The next step for those who have ice climbed a few times and want to improve their skills! 2 days. $425. Maximum 4 participants.
Mixed Climbing Weekends – Mixed climbing has exploded in popularity in the last few years! This course will give you the skills to enjoy the mixed climbing and drytooling crags! 2 days. $425. Maximum 4 participants.
Ice Skills Clinics – If you have done a bunch of ice climbing and want to improve your skills while progressing onto steeper climbs, this course is designed for you! Very small group sizes allow us to provide instruction that matches your skills and goals. 2 days. $425. Maximum 4 participants.
Ice Skills Week – The ultimate 5 day ice climbing course for anyone with a bit of experience who wants to become a safe & skilled ice climber! Includes multipitch & lead climbing skills. 5 days. $1245. Maximum 4 participants.
Custom Courses – Custom courses and training are available for groups of 1 to 10 participants from December to March every winter!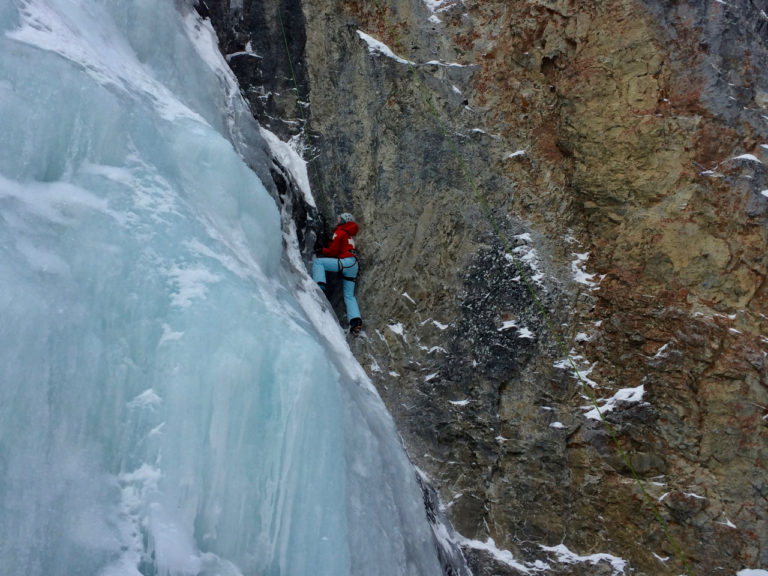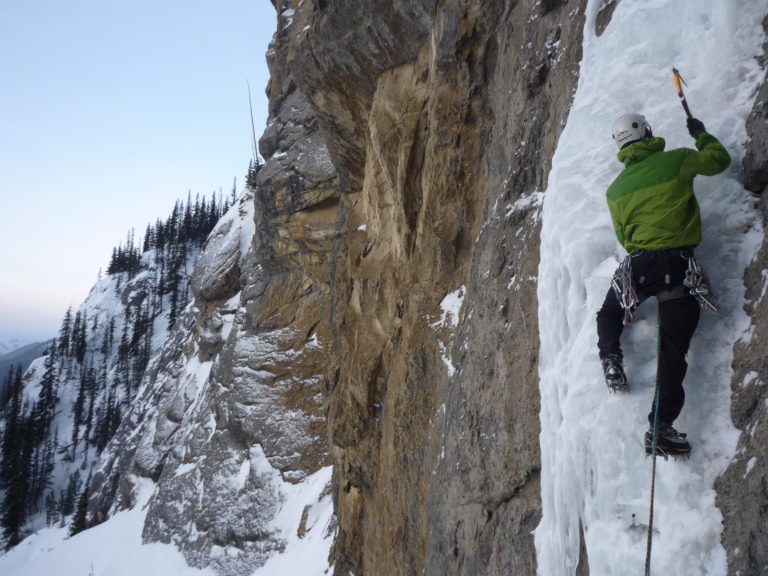 CUSTOM ICE CLIMBING TRIPS
No climbing experience of any sort is required to plan a guided ice climbing trip. Anyone with basic hiking fitness can successfully enjoy ice climbing!
From November until April our specialty is leading unforgettable ice climbing trips for all ability levels. Ice climbing trips can be any length you like, from one day to a week or more, the choice is yours. Trips are usually based out of Canmore or Banff but we can also base from Nordegg, Lake Louise, Field, Jasper or a combination of these amazing mountain towns. It is best to plan a flexible itinerary and then choose climbs from day to day with your guide. This allows you to take maximum advantage of the current ice and snow conditions during your trip.
Some popular outings include:
Beginner ice climbing days
Guided multipitch climbing (see below)
Movement skills instruction
Mixed climbing and drytooling skills
Lead climbing & anchor building skills
Family ice climbing experiences
Multipitch Ice Climbing
Hundreds of ice climbs in the Canadian Rockies are available for guided ascents.  The following are some of our guides favorites in various areas throughout the range…
First Multipitch Routes
Classics
Big Lines
More Routes
Check out the Canadian Rockies Ice Climbing Encyclopedia for info on nearly 100 more ice climbs! This online guidebook was produced by CRAG's head guide Jay Mills in 2010.
Mixed Climbing
Discover the challenge of mixed climbing at great crags throughout the Rockies. Learn the skills at places like Grotto Canyon and Haffner Creek, then have a shot at a multipitch mixed route like Coire Dubh Integral!  For experienced climbers there are mega-classic routes such as Mixed Master and testpieces like French Reality at the legendary Stanley Headwall!
Check out our video of the mixed climb Amadeus on YouTube!