If you have done a fair bit of ice climbing and want to advance your skills on steeper ice & mixed routes, this course is designed for you! This is our most advanced weekend ice climbing course.  Very small group sizes (max 4) allows us to provide instruction that matches your skill and ambition level and provides a highly enjoyable weekend for all.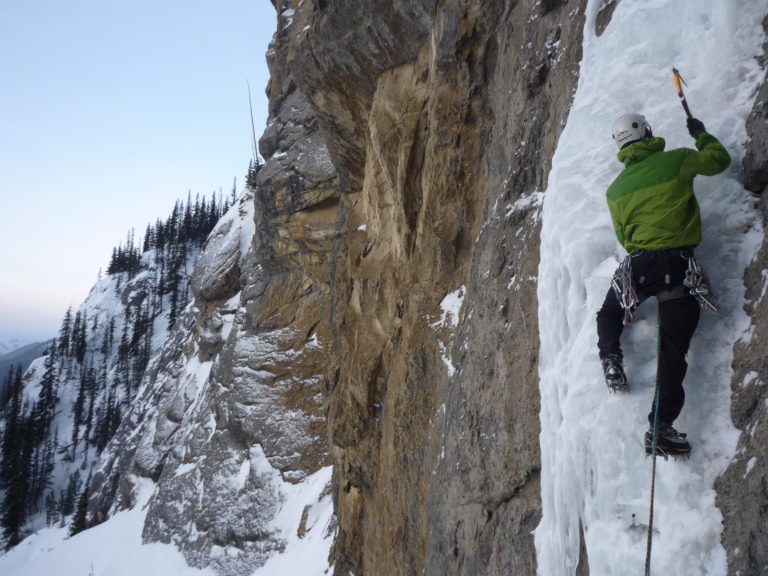 Nov 25-26th, 2023 (2 spots left)
Feb 24-25th, 2024 (4 spots left)
COST: $425 + GST per person
Prerequisites: A number of previous days of ice climbing experience up to WI4. Participants must also be comfortable with basic climbing skills such as belaying & rappelling. If you are unsure about your readiness please send us an e-mail at info@cdnalpine.com. The Intermediate Ice Courses may be a better choice if you have only ice climbed a handful of times or aren't sure about your ability to climb steeper routes. 

Meeting Place & Time: Canmore at 7:00am

Book your spot: Please contact us at info@cdnalpine.com to get signed up!  You can join as an individual or as a group of up to 4 people.  A non-refundable deposit of $100 + GST is required to book your spot, with the remainder due 4 weeks prior to the start of the course.  Invoices will be provided with options for etransfer, credit card, and PayPal.  Reading and completing a Waiver form is required to participate in all courses or trips.  A copy of the Waiver will be provided to you before booking and can also be downloaded here: CRAG Waiver Form.  Before booking you must acknowledge that you have read & agree to the Waiver form.  
Agenda
Days 1 & 2 – On this course your guide will strive to provide instruction that is most relevant to your skill level. The exact agenda will depend on experience levels and conditions but there will be 2 full days of climbing in the Canmore, Banff and/or Kananaskis areas. The focus will be on steep ice & mixed climbing skills with lots of opportunities to practice steep ice movement techniques, anchor building, screw placements, mixed climbing, multipitch skills, gear selection and just about anything else you would like to learn!
Optional Day 3 – Multipitch Ascent: Course participants can add on a discounted day of multipitch climbing in groups of 1 or 2 people. $500 for 1 person or $275 each for 2 people.    After the weekend course, you and the guide can discuss options and choose a route to fit your skills and ambitions.  Popular choices would include Professor Falls, Guinness Gully, Bridge Too Far, and Moonlight & Snowline. Very long days such as Coire Dubh Integral, Murchison Falls, Polar Circus, etc would have an additional cost. Please request this option in advance. See the ice page for more information on guided ascents.
Gear List
All technical equipment is provided free of charge except for boots. However, if you have any of your own climbing gear, feel free to use it! If you are unable to locate any of these items or have any questions, feel free to contact us at any time for assistance.
Ice Climbing Boots – can easily be rented in Canmore at GearUp Sports
Small Pack (about 30 litres)
Crampons – provided
Ice axes – provided
Harness – provided
Helmet – provided
Belay Device – provided
Sweater/Fleece
Winter Jacket or Goretex/Softshell Jacket
Winter Pants or Goretex/Softshell Pants
Long Underwear
Gloves (2 pairs)
Toque
Water Bottle/Thermos
Lunch