Providing great experiences & skill development on rocks of all sizes!
The Canadian Rockies have thousands of rock climbs of all lengths and difficulties. Whether you want to try climbing for the first time or tackle a thousand foot wall we are always happy to introduce our guests to the world class rock climbing that the Canadian Rockies have to offer!  Guides are highly skilled and are certified through the Association of Canadian Mountain Guides (ACMG).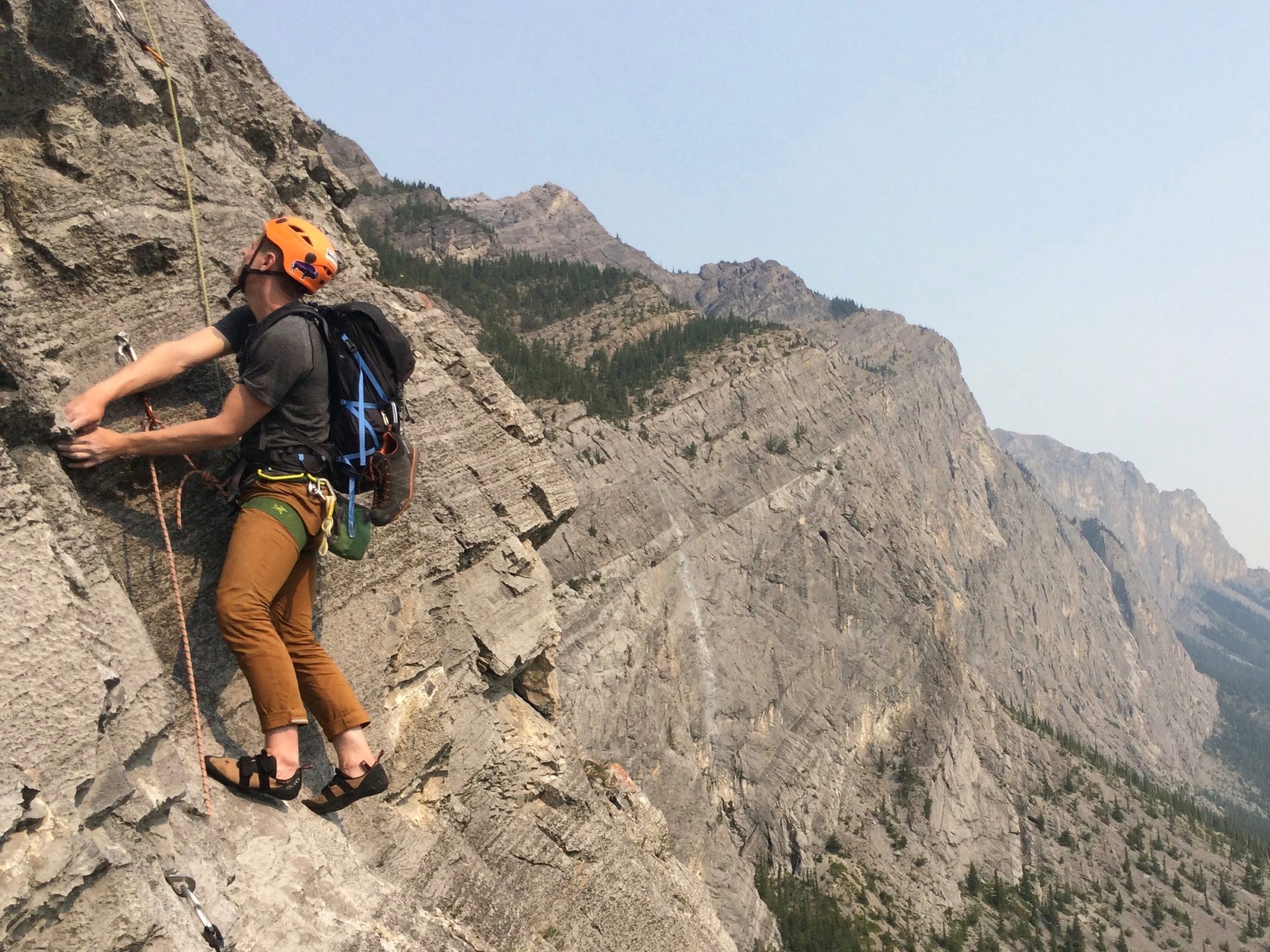 COURSES & TRAINING
Introductory Rock Climbing – 2 days of fun and excitement learning the basics of rock climbing & rappelling! Courses take place in the Canmore/Banff/Kananaskis area and no prior experience is required. $345. Maximum 6 participants.
Sport Lead Course – 2 days learning to lead bolted rock climbs. The goal of this course is to help you become a self-sufficient and safe sport climber. Courses take place in the Canmore/Banff/Kananaskis area. $375. Maximum 5 participants.
Trad Climbing Course – 2 days of learning to lead traditional gear climbs! Emphasis will be on proper placement of nuts and cams for protection & anchor building. Very small group sizes allow us to tailor the instruction to meet your abilities! $425. Maximum 4 participants.
Rock Skills Course – 3 days of rock climbing skills for those who have tried some climbing and want to become safe and independent climbers! Combine with an Intro Rock weekend for 5 awesome days on the rock! $725. Maximum 4 participants.
Advanced Rock Skills Week – 5 day course for experienced sport climbers wanting to gain the skills for harder routes, trad climbing and multipitch! $1245. Maximum 4 participants.
Custom Courses – Custom instruction for all levels is available from April through September!
CUSTOM ROCK CLIMBING TRIPS
Whether you are a total beginner or a long time climber our guides will be happy to show you the best the Rockies have to offer! Custom guiding and rock climbing lessons are available throughout the summer to suit all skill levels. Individuals, families and groups of up to 10 people are welcome to book a rock climbing trip with Canadian Rockies Alpine Guides.
No climbing experience of any sort is required to plan a custom rock climbing trip. Anyone with basic hiking fitness can successfully enjoy rock climbing!
Popular trips include:
Guided multipitch climbs (see below for some options!)
Introductory days for families, individuals and groups up to 10 people
Learn to lead
Multipitch skills
Rock rescue
Trad climbing
Alpine rock skills
Guided Multipitch Climbing
The Canadian Rockies are blessed with thousands of fantastic rock climbs on limestone, dolomite and quartzite. There are routes of all difficulties from easy to extreme. It is best to plan a flexible itinerary and then choose climbs from day to day with your guide based on your abilities and goals.  These are some of our favorite routes to help you get inspired…
Yamnuska (Canmore) – Grillmairs Chimneys – Grade: 5.7, Length: 350m
Ha Ling (Canmore) – NE Face – Grade: 5.6, Length: 450m
Wasootch Tower (Kananaskis) – North Ridge – Grade: 5.6, Length: 300m
Cascade Mtn (Banff) – Mother's Day Buttress – Grade: 5.6, Length: 335m
Mt. Kidd (Kananaskis) – The Fold – Grade: 5.8, Length: 500m
East End of Rundle (Canmore) – Geriatric – Grade: 5.8+, Length: 200m
Mt. Stelfox (Nordegg) – Stark Raven Mad – Grade: 5.8, Length: 160m
Takakkaw Falls Route (Field, BC) – Grade: 5.7, Length: 425m
Yamnuska (Canmore) – The Bowl – Grade: 5.10c, Length: 150m
West End of Rundle (Banff) – Rundlehorn – Grade: 5.4, Length: 300m
Tunnel Mtn (Banff) – Gooseberries – Grade: 5.8+, Length: 250m
Hundreds more including: Stealthy Fox (Nordegg, 5.10b, 385m), Econoline (Canmore, 5.10a, 200m), Cory's Groove (Banff, 5.9, 450m), Keelhaul Wall (Canmore, 5.6, 150m) and routes of all grades on Mt. Yamnuska!