A beautiful mountain above Moraine Lake in the famous Valley of the Ten Peaks.  Mount Fay is the main attraction for most climbers heading up to the Neil Colgan Hut, which is the highest permanent habitable structure in Canada!  If you have ever done the scramble up Mt. Temple, Mt. Fay is the glaciated peak across the lake that you would have been looking at all day. The ascent routes have lots of moderate climbing on all types of mountain terrain and make for very enjoyable trips!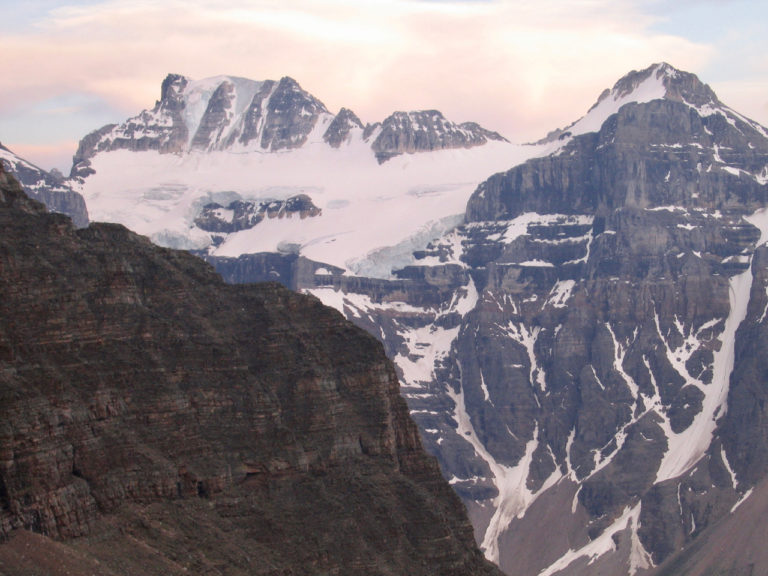 Elevation: 3235m, 10614ft

Location: Moraine Lake above Lake Louise. 1 hour from Canmore, 45 minutes from Banff.

Difficulty: Intermediate.

Logistics: The climbs are typically 2 day trips, although longer trips with more summits (Little, Perren, Babel, and more) or very long day trips are also available.  Trips are subject to availability of the hut.  Best from late June through September.

Prerequisites: Glacier Travel Course or similar experience.  Scrambling and/or rock climbing experience.  Good fitness.

Routes
West Ridge (II, 5.4):  A great 2 day mountaineering trip with lots of wild exposure and moderate (mostly!) climbing on rock, snow, and glacier.  The approach to the hut is a good day in itself with lots of scrambling, fun rock climbing, an exciting "batman" up a 15 meter piece of chain hanging off a steep wall, and a walk across the glacier to the Neil Colgan Hut where we will spend the night.  The next morning we get up early and cross the glacier to the base of the ice face. A bergshrund crossing and a moderate snow/ice face lead us to the start of the rocky West Ridge.  A number of exposed rock & snow pitches follow the ridge to the summit. Descent is made back down the West Ridge and the Perren route to Moraine Lake.  Group size up to 2.
North Face Routes (II): Not in condition as frequently as they used to be, but when snow conditions allow there are some great moderate alpine ice routes up the North side of the mountain.  Approach to the hut and access to the North Face is the same as for West Ridge.  
Gear List
All technical equipment is provided free of charge except for boots. However, if you have any of your own climbing gear, feel free to use it! Rental and purchase information for boots, clothing, and camping gear can be found here. If you are unable to locate any of these items or have any questions, feel free to contact us at any time for assistance.
Mountaineering Boots
Overnight Pack (about 50 litres) – available for loan
Crampons – available for loan
Mountaineering Axe – available for loan
Harness – available for loan
Helmet – available for loan
Avalanche Gear – available for loan and dependent on season.
Sweater/Fleece
Winter Jacket or Goretex/Softshell Jacket
Winter Pants or Goretex/Softshell Pants
Puffy Jacket
Long Underwear
Gloves (2 pairs)
Toque
Sunglasses (important!)
Headlamp
Sunscreen
Gaiters
Water Bottles (2 litres)
Lunches & Breakfasts (dinner typically arranged with guide)
Sleeping bag