The one and only "King" of the Canadian Rockies is one of the most sought after and challenging peaks on the planet.   The massive routes up Mount Robson dwarf most other alpine climbs in North America with almost 10000ft of elevation gain from base to summit!  There is no easy way up this peak and some years it still only receives one or two ascents all year.  The climbing routes on it are very high quality climbs for those with the skill and ambition to tackle them!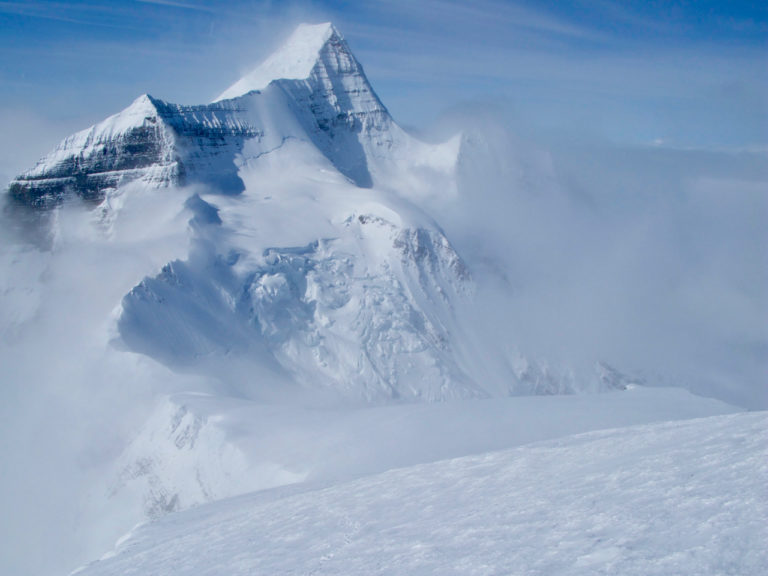 Elevation: 3954m / 12972ft – highest peak in Canadian Rockies!

Location: Mt. Robson Provincial Park, BC. 1 hour West of Jasper.

Difficulty: Advanced.  This is one of the most difficult mountains in North America and is far more challenging than any of the well known mountain in the lower 48 states.  It requires a high level of technical skill & endurance.

Logistics: All climbs on Mt. Robson are difficult and take multiple days to complete. The weather is highly variable and good conditions are never guaranteed. If weather does not allow an attempt on Robson, other nearby mountains will be attempted instead.  July and August are typically the best months to try and climb Robson.  Please contact us for more information. 
Prerequisites: Extensive mountaineering experience and excellent fitness.   Mt. Robson trips are only available to guests who have completed other alpine climbs with us.

Routes
Kain Face (IV): The most popular route on the mountain and another Rockies classic. Although many climbers use a helicopter to fly most of the way up the mountain to The Dome, this misses out on the true Robson experience and removes much of the challenge. We will spend 1 long day or 2 shorter days hiking & scrambling to an amazing campsite about half way up the mountain on the Patterson Spur. From high camp we will start at around midnight and continue scrambling up to a rock ridge between Mt. Robson and Mt. Resplendant. Some climbing along the rocky ridge leads us to the glacier below the ice face known as the Kain Face. A few hundred meters of 50 degree snow or ice climbing brings us to the long upper ice slopes known as "the roof". This challenging upper section leads over some wild ice & snow features until eventually reaching the summit! Descent back to high camp is made by the same route, and then down to the road the following day. All trips are scheduled to allow for at least one bad weather day. If time, weather, and energy levels allow, ascents of the Helmet or Mt. Resplendant may also be attempted.  Typically a 4 day trip.  Summit day is often 20+ hours on the go. 1 guest only.  
Other Routes: CRAG's head guide Jay Mills has climbed a number of other routes on Mt. Robson including Infinite Patience (VI, M5, 5.9) on the Emperor Face, The Emperor Ridge (V, 5.7), The Fuhrer Ridge (IV, M4), and the traditional Kain Face route via Berg Lake.  Although it's unlikely that any of these would be available for guiding, it is possible he would consider it with a very skilled guest and excellent climbing conditions.
Gear List
All technical equipment is provided free of charge except for boots. However, if you have any of your own climbing gear, feel free to use it! Rental and purchase information for boots, clothing, and camping gear can be found here. If you are unable to locate any of these items or have any questions, feel free to contact us at any time for assistance.
Backpack (about 60 litres)
Mountaineering Boots (must be 4 season boots such as Scarpa Mont Blanc's, Phantom Guides, La Sportiva Nepals, or similar)
Hiking boots or shoes for the approach
Crampons – available for loan
2 Ice Climbing Axes – available for loan
Harness – available for loan
Helmet – available for loan
Belay device, 2 locking biners, 1 long sling & 2 sections of 6mm or 7mm cord on non-locking biners (ie. a glacier travel kit) – available for loan
Sweater/Fleece
Softshell Pants
Goretex Jacket
Waterproof Pants
Down or Insulated Synthetic Jacket with hood.
Long Underwear tops & bottoms
Gloves (1 lightweight and 1 or 2 warm pairs)
Extra socks
Toque
Sunglasses (important!)
Headlamp with extra batteries.
Sunscreen
Gaiters
Sleeping Bag (-5C to -10C or so, lightweight down is best)
Sleeping Pad
Reading Book or ipod (optional)
Extra Socks
Water Bottles (2 litres)
Food (dinners we will likely arrange together)
Cup or light bowl and spoon
Hiking pole
Personal blister kit and/or medications as required
Team camping gear such as tent & stove provided