This beautiful peak sits beside Mount Athabasca and has some of the best alpine snow & ice climbing routes in North America!  It isn't climbed nearly as often as Athabasca due to the more difficult nature of the routes, complex glacier travel and a challenging descent.  You will likely be the only group on the mountain!  It makes a great progression into more difficult climbs after gaining experience on mountains such as Athabasca, Mt. Hector, or the Wapta Icefields peaks.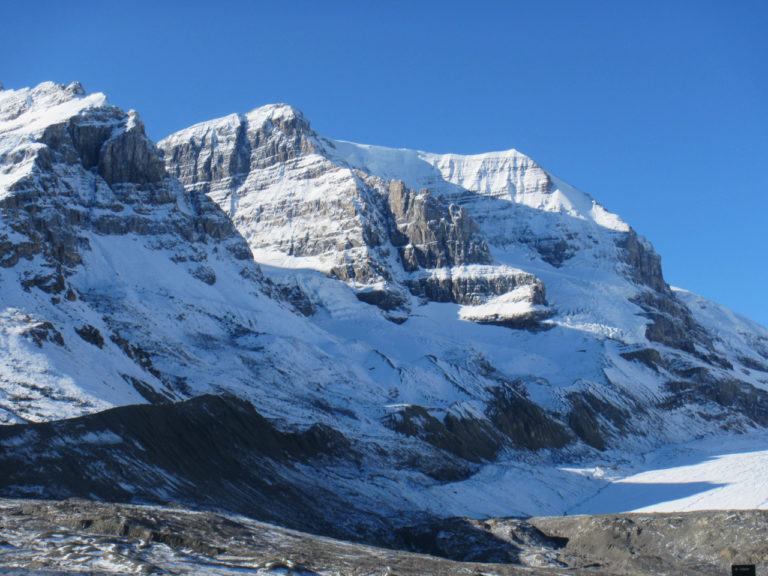 Elevation: 3450m / 11320ft

Location: Columbia Icefields.  2.5 hours from Canmore, 1 hour from Jasper.

Difficulty: Intermediate to advanced. 

Logistics: Season runs from late May to late September.  Early starts are required (usually about 2am) so camping at the Icefields the night before is recommended. 

Prerequisites: Glacier Travel Course, a custom training day, or similar experience. Good fitness. Basic climbing skills such as belaying and rappelling.  Ice climbing experience recommended.

Routes
Skyladder (II): The Skyladder is the classic route on the mountain and is a good introduction to long snow & ice alpine climbs. It is somewhat more involved than the Silverhorn on Mt. Athabasca. After crossing the glacier through a maze of crevasses, the route itself is climbed in about a dozen long pitches of snow and ice up to 45 degrees. The descent involves rappelling, downclimbing and glacier travel. The views of the Columbia Icefields are outstanding!  9-13 hours.  Group size up to 2 depending on prior experience. 
North Face (III): This steeper (55 degrees) route to the left of the Skyladder offers a more challenging way to reach the summit of Mt. Andromeda. Climbers get to experience a true Rockies North Face on this climb. Descent is generally made down the AA col route which involves some exciting scrambling, a number of long rappels and another glacier crossing. 9-13 hours round trip.  Group size up to 2 depending on prior experience.
Other Routes on Mt. Andromeda include the AA Col (II) and Astroid Alley (III, M5, WI5).
Gear List
All technical equipment is provided free of charge except for boots. However, if you have any of your own climbing gear feel free to use it! Rental and purchase information for boots, clothing and camping gear can be found here. If you are unable to locate any of these items or have any questions, feel free to contact us at any time for assistance.
Ice Climbing/Mountaineering Boots
Small Pack (about 30 litres) – available for loan
Crampons – available for loan
2 Ice Climbing Axes – available for loan
Harness – available for loan
Helmet – available for loan
Avalanche Gear – available for loan and dependent on season.
Sweater/Fleece
Goretex/Softshell Jacket
Goretex/Softshell Pants
Warm Puffy Jacket
Long Underwear
Gloves (2 pairs)
Toque
Sunglasses (important!)
Headlamp
Sunscreen
Gaiters
Water Bottles (2 litres)
Lunch